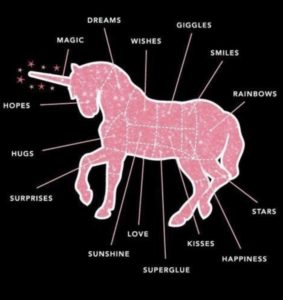 As promised, my blog. A true look behind my life and how I became who I am today. A true glimpse behind the smile and the positivity. Don't go getting all scared over there! I am actually mostly all smiles and positivity in a world that has left me wondering "why" more than once. To break it down in a crazy short nutshell, I have had my fair share of heartache and sadness, yet I chose to chase the unicorns and rainbows. I chose to believe that this path we are on is laid out for a reason and we are simply along for the ride. We can always look to find the reason behind our fate in life, or we can chose to make the best of it realizing that sometimes, what it boils down to is that life is not fair. There are no promises.
And with that in mind, I think often about unicorns and rainbows, don't you? (Maybe that is just a woman with daughters thing…be happy I didn't also add fairies and mermaids!) All are filled with wonder and amazing things – they are beautiful, rare, mythical, full of dreams and hopes and craziness, just like life and adulting.
Seriously, have you ever looked up unicorn or rainbow on Google? I am guessing the answer there is no! HA…but you know I have and I feel that is one thing you should also be aware. Unicorn – an unattainable object of your affection – a mythical species that is impossible to catch – a horse with a horn on its head that missed Noah's boarding – a single piece of corn – a super hot bisexual person who can join in with polyamorous couples and not demand anything or do anything which might cause problems or inconvenience to that couple – wait, what? And then there are rainbows – a spectrum of colored light appearing in the sky when the sun shines through the rain – the path you follow to find the pot of gold – $50 flip flops I will never get to wear – a symbol widely appropriated by members of the gay community – a game teenagers apparently play where girls put different colors of lipstick on and…wait! WHAT? Please help me raise my daughters to not learn of that type of rainbow! LOL
If I think it, I am going to share. If I live or lived it and I think it can help someone else, I am going to share. I have generally always been a relatively open book. I am so hopeful that some part of my journey will be able to touch or help just one person. To help them realize that they aren't alone – that shit happens to everyone and you don't always know what someone is dealing with from their outward appearance – that they can still live life to the fullest and smile, on the daily!
Not every day is filled with unicorns and rainbows, however. Some days actually suck. Sometimes, adulting really is a fucking awful buzzkill!  But there is something to be learned from those days too. And let's be honest here, no one is perfect. Life is made perfect by seeing the progress in your day to day – by realizing your most authentic self. A glimpse of not being alone when adulting gets you down, if nothing else. And the next day the realization that we are mostly all balancing somewhere between tragedy and comedy…that there's a lot of shit to wade through while we chase the unicorns and rainbows.
I hope you enjoy and stay tuned!